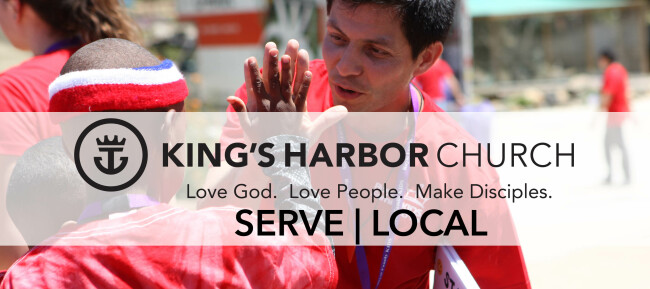 Interested in making a difference in our community? Fill out the form below and we will contact you. Descriptions of all the serving opportunities are listed below.
Sharefest is where youth and community development intersect to create change in LA's under resourced neighborhoods.
Serving Opportunities:
Workday (spring of each year)
Youth Development Academy (teachers and mentors)
Royal Family KIDS is a 5 day residential camp for foster children in our community. These same children are then offered an opportunity to be mentored during the school year by those who served at Camp.
Serving Opportunities:
Serve as a Camp Counselor or Staff
Volunteer at Camp check-in/check-out
Volunteer at the Camp Birthday Party
Volunteer to load/unload the Uhaul for Camp
Join the prayer team
Sponsor a child
Sponsor a volunteer
Teen Reach Adventure Camp (TRAC) is a weekend camp experience for at-risk youth ages 12-15 years old from our community. TRAC is a continuation of our ministry to foster kids through Royal Family KIDS Camp and Mentoring Program. At TRAC, boys and girls attend separate weekends, but female and male adult volunteers serve at both weekends.
Serving Opportunities:
Serve as a Camp Counselor or Staff

Volunteer at Camp check-in/check-out

Volunteer to load/unload the Uhaul for Camp

Join the prayer team

Sponsor a child

Sponsor a volunteer
Christmas Wish Program
Through our annual Christmas Wish Program, we seek to bless foster families in our community. Families who are part of the program complete a "Christmas Wish/Needs List" for each child in their family. We then match sponsors with a child(ren) to purchase and wrap gifts from the child(ren)'s Christmas Wish/Needs List, between $60-$100 per child. We also match sponsors to a caregiver to purchase a $50 grocery store gift card.
Serving Opportunities:
Sponsor and wrap gifts for a child

Sponsor and wrap a gift card for a caregiver
To participate, sponsors register online - our registration typically opens early in November at www.kingsharbor.org/events.
Fostering Hope L.A.'s vision is to see an increasing number of emancipating foster youth transitioning out of foster care to develop a direction, focus, and hope for their future; to help them succeed through healthy relationships, continue their education, gain successful employment, and most importantly introduce them to God's love.
Serving Opportunities:
Become a Mentor
Assist with Graduation
Employ our Graduates
Teach a Seminar
Become a Youth Counselor
Torrance
Join a peaceful gathering of prayer from 8:00-10:00 a.m. on the sidewalk in front of Planned Parenthood at 14623 Hawthorne Blvd., Lawndale, CA.
Serving Opportunities:
February 15, 2020
April 18, 2020
June 20, 2020
August 15, 2020
October 17, 2020
December 19, 2020
Wilmington
The first Monday of each month, KHC teams bring worship, prayer and a teaching to Beacon Light Mission in Wilmington. For over 100 years this ministry has brought "soup, soap and salvation" to people in need.
Serving Opportunities (First Monday of the Month 6:30 p.m.):
Preach the Gospel
Lead Worship
Pray
Community's Child is a non-denominational Christian program committed to providing homeless women with infants healthy alternatives to abuse, poverty, addictions, and hopelessness.
Babysitting
Leading Bible studies
Leading cooking classes
Donation sorting and storing
Gardening and maintenance
Mentoring and tutoring
Young Life is a non-denominational Christian ministry that reaches out to adolescents through volunteers, staff, club meetings, and camps by building meaningful relationships.
Serving Opportunities:
Prayer partners
Leaders
Special events
Drivers
Meals
FCA is a para-church ministry (working side by side with churches) that reaches out to student athletes and coaches at club meetings (during school lunch time) on High School and Middle School campuses in the South Bay. You don't have to be an athlete or Christian to attend the club. Our mission is to impact the world for Jesus Christ through the influence of coaches and athletes.
Serving Opportunities:
Prayer partners
Volunteer Leaders
Special event volunteers